Memorial Day 2014: Thank You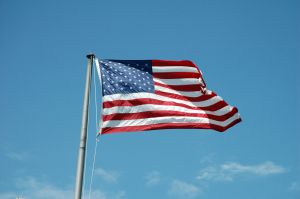 Have you ever just wanted to say, "Thanks"? Not the throw-away, say it to get it over with, kind of thanks; but the heartfelt, I really couldn't have done this without you, sort of thank you? With today being Memorial Day, maybe it's not such a bad idea.
Memorial Day: summer, barbecues, friends, family; not a bad thing comes to mind. Its history, though, is a lot more solemn. According to the Veterans Administration's website's Memorial Day History, what used be called Decoration Day began this way:
Three years after the Civil War ended, on May 5, 1868, the head of an organization of Union veterans — the Grand Army of the Republic (GAR) — established Decoration Day as a time for the nation to decorate the graves of the war dead with flowers. Maj. Gen. John A. Logan declared that Decoration Day should be observed on May 30. It is believed that date was chosen because flowers would be in bloom all over the country.
There was a really good cartoon in today's paper that pretty much sums it all up. It shows a family having a picnic under a tree in a park. The kids are running and the parents are laughing; everyone is having a carefree good time. The park, though, is built on a soldier's helmet.
There also was a story about a long ago trip to the U.S. Military cemetery just beyond the beaches of Normandy, France: No fancy gravestones; just row upon row upon row of Crosses and Stars of David. Words couldn't do it justice.
Finally, there was an opinion piece in the May 24-25 Weekend Edition of the Wall Street Journal by Robert M. Sapolsky, entitled "Humans Aren't The Only Animals Stuck on Status." The point of the piece is that we aren't the only ones who know and care about where we stand in society. We all spend a lot of time comparing ourselves to others; but we're not the only ones. He cites male baboons and ravens, in particular. He has to admit, though, that we're the only ones who would spend so much time trying to decide who would get voted off the island first: Donald Sterling or Vladimir Putin?
The problem is, his point misses the point. Sure, people compare themselves. Sure people like to look at how the rich and famous live; Robin Leach, anyone? Think of the huge audience a British royal wedding draws here.
But what about the people who run towards danger, not because it's dangerous, but because they want to help? What about those people who help but don't ask for much of anything in return, except to help? Did the soldiers really have to volunteer to give their lives for us? Did the first responders really have to run up more than 100 flights of stairs when everyone else was running down?
Maybe, we should care about class after all. Who better to look up to than the ones who willingly give their lives for people they don't even know, because they know defending them is the right thing to do? Maybe, just maybe, they are the highest class of people, after all. Who would've thought: the ones who deserve the highest honors are the ones who care more about others than themselves.
Sometimes, people do the right thing for the right reason, and the right reason is nothing more than they know it's the right thing to do. They don't need a heroes' welcome. Maybe, just maybe, a simple thank you is enough. Maybe we all should try it a little more often; it can't hurt.
Happy Memorial Day.
Go raibh maith agaibh
Ray Grasing